We are passionate about good health and great food! All of our recipes and formulations were originally created and refined for ourselves and our family. We are now honored to share them with you, our extended family.
Since our inception in 2016, all our products are hand made in small batches in Southern California. Our Rawesome Morsels and Rawesome Remedies – Bliss Balm and CBD oils – are used and enjoyed by customers across the country (and around the world).
We welcome your input and feedback and want to thank you for supporting our business and the family of products we lovingly offer.
Rawesome Morsels™, like most things, did not spring to life fully formed. It began when our lifelong love of delicious food and our determination to have a consistent healthy diet/lifestyle ran into each other headfirst. We knew that in order to be as healthy as possible we needed to adopt a new attitude towards food. Not another diet, but a new way of life.
After much research we decided that for us, a diet without refined sugars, without wheat flour and with very few grains was the way to go. Our dilemma was: we were not willing to live through a single bland, tasteless "healthy" meal. Let's face it. Life is just too short to eat boring food! So, every meal became a challenge. 
We were determined to absolutely love what we ate, and we were doing it! Breakfast, lunch and dinner were coming along nicely, but we were more challenged by two other absolute necessities: awesome desserts and delicious quick snacks. So, we started blending the finest fruits, nuts, seeds and seasonings in a variety of our favorite flavors. Daily, obsessively, we would chop, grind, blend, season and shape the highest quality raw foods available. We made layered desserts, tortes, pies, bars, puddings, cookies and anything else we could conceive.
We were creating so many different concoctions that we started making gift boxes and sharing them with friends and family and asked everyone for their comments and feedback until we were finally able to narrow the field down to a few favorites. At this point we bought a larger scale dehydrator so we could get the consistencies just right, and the warm, delicious smells started to permeate our home. We have a lush garden outside of our kitchen, and we started to notice a squirrel looking in the window, and generally loitering in plain sight at all hours of the day or night.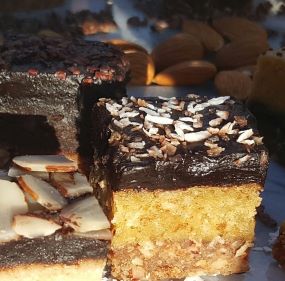 We have a dog and a cat, and while they are no great hunters, they both appreciate a good squirrel chase, but this did not seem to deter our new friend in the slightest. In fact he started to be such a regular visitor, and had such a dignified and unflappable personality we decided to name him Sebastian. He seemed to be flourishing in our garden, his coat grew even more lustrous, he put on some weight and seemed to have developed a new confident sparkle in his eyes, about this same time we noticed that some of the gift boxes that were filled and stacked in our kitchen and ready to go to our friends were missing pieces, or even whole layers of tasty morsels!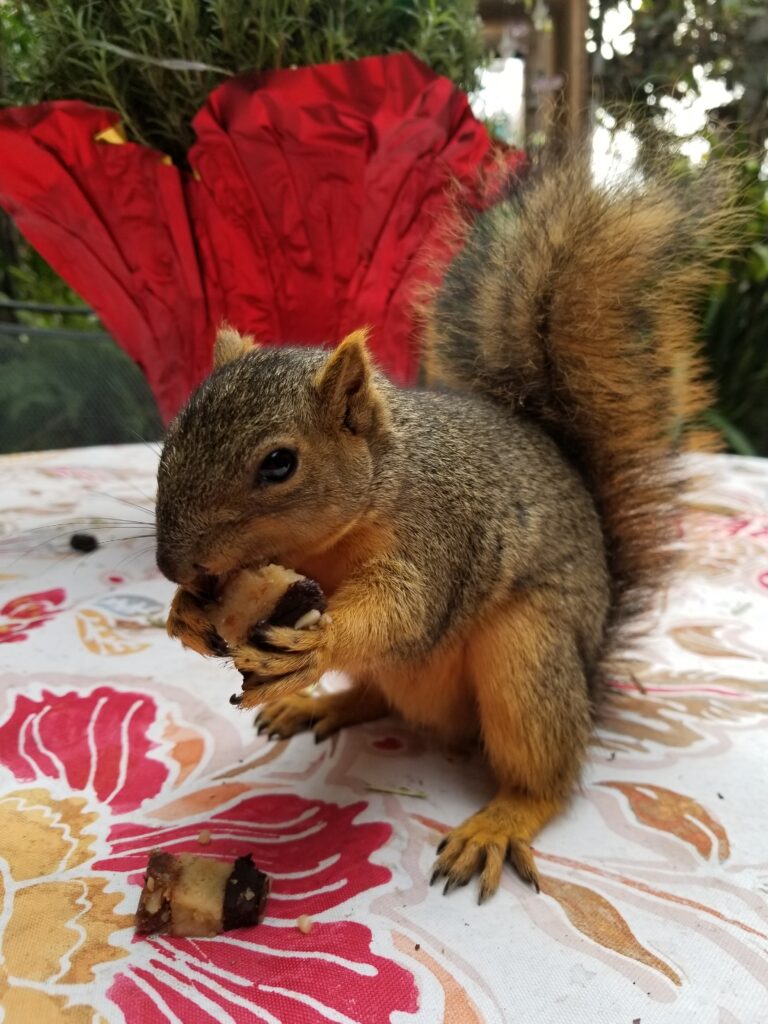 The mystery was resolved when we came home one day and caught Sebastian in the act. He had apparently sneaked in the cat door, tiptoed past the sleeping dog and cat and was in the process of carefully opening a box of goodies when we walked in. After a classic double take, in what I could only call a cartoon moment, he beat a hasty retreat out the cat door, but on his way out he paused just long enough to grab a Barefoot Marzipan square, pop it in his mouth and make his escap We had lived in the same house for almost 8 years, and with all the thousands of meals and desserts we had made over the years, until that point we had never yet tempted a wild animal to the point of breaking and entering and absconding with the jewels of our efforts! When we finally stopped laughing, we looked at each other and decided then and there that we should share our new creations with everyone, and Rawesome Morsels was born.
We hope you enjoy eating these incredibly delicious and healthy concoctions and that you too become a part of the Rawesome Morsels™ story.
Our bodies are truly remarkable machines and life itself is a miraculous gift, but when you're suffering from joint, muscle or nerve pain, it is hard to remember that. This is the reason we were driven to research herbs with pain relieving and anti-inflammatory properties, performed extensive experimentation and have made continuous improvements based on our observations and customer feedback to ultimately arrive at our Bliss Balm and Extra Strength Bliss Balm formulations. We infuse our herbs (Arnica, Calendula and Comfrey) imported from Europe in organic olive oil for several weeks to achieve the strongest possible solution as the base, and we create each batch with the utmost care and love.
We have long used it for our own knee, hip, back and shoulder pain, and we have customers who use it for everything from just overdoing it at the gym, before and after competitions, or to help with the painful symptoms of such diverse conditions as arthritis, TMJ, fibromyalgia, migraines, Parkinson's disease and to speed recovery from bruises, sprains, strains and other traumatic physical conditions and injuries.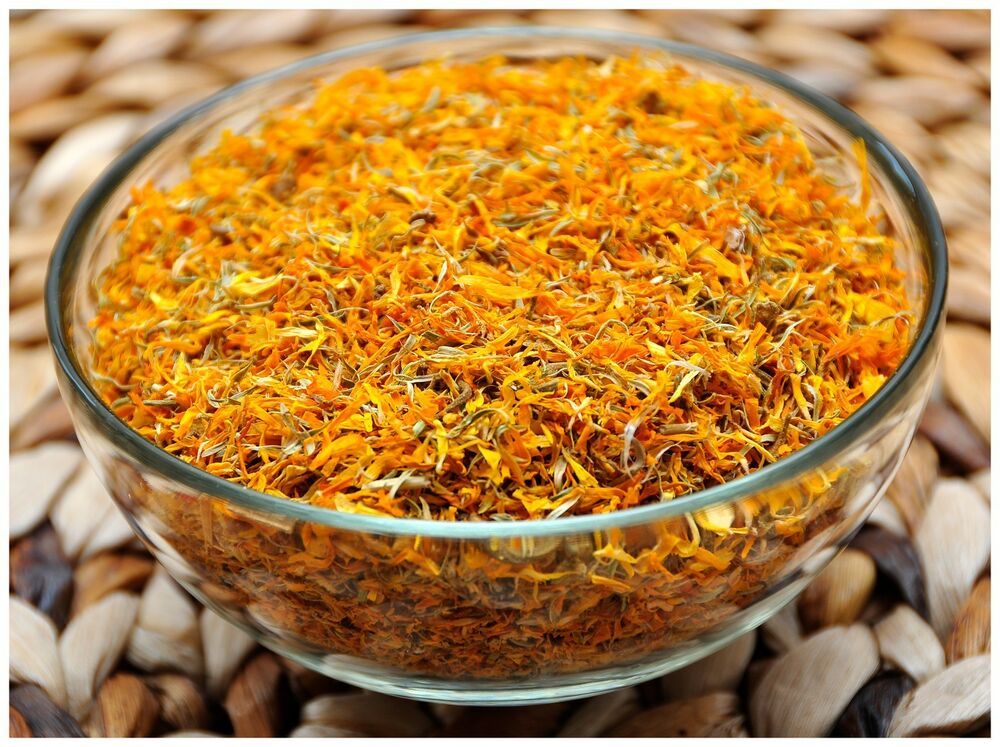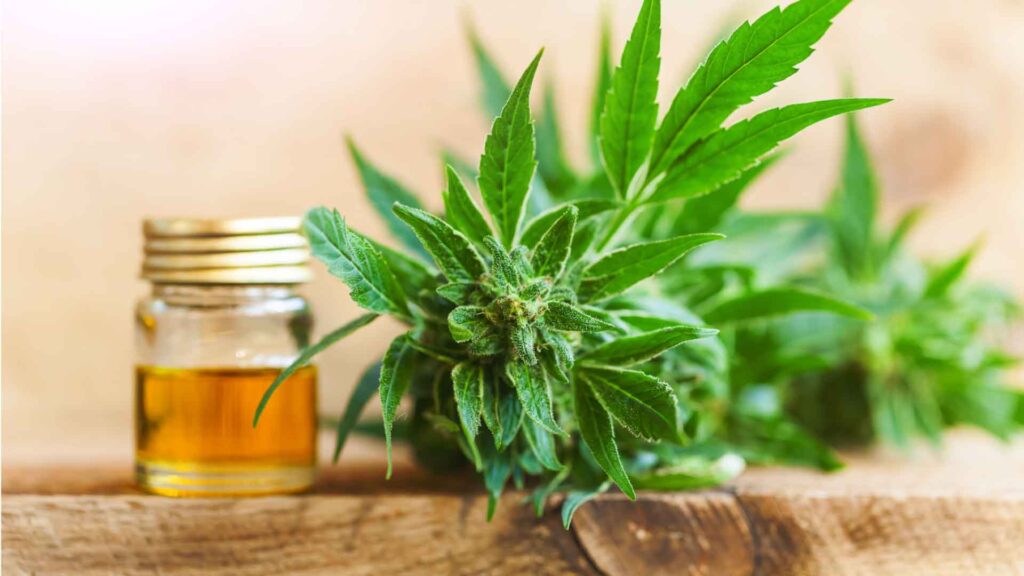 From our own experience and the rave reviews of our customers we encourage to try Bliss Balm. As with any herbal remedy, we cannot make any medical claims regarding these products since the efficacy of all our active ingredients has not been evaluated by the FDA and each individual's personal experiences with the product may differ. But we do have a great many loyal, devoted customers who love our products, and we hope you will too!